JOIN US NEAR BARNARD, KS
For those interested in shooting some longer range targets, we will be having precision rifle matches the first Saturday of the month from April through September. We will be engaging targets from 10 yds to around 1400 yds.
We will be having monthly precision rifle matches from April thru Sept.
Schedule is below:
2017 Match Dates
| | |
| --- | --- |
| April 1 & 2 | Precision Rifle Series – points race match – must be registered to compete. |
| May 6 & 7 | Monthly Precision Rifle Match |
| June 3 & 4 | Monthly Precision Rifle Match |
| June 10 | Team Match |
| July 8 & 9 | Monthly Precision Rifle Match |
| August 5 & 6 | Monthly Precision Rifle Match |
| September 2 | Spearpoint Precision Rifle Match Finale |
| September 30 | KPRC Finale |
These two matches will be the exact same match both days so you can pick which day you would like to shoot or double your fun and shoot both days.
Each day's match will be scored against that day's shooters so shooting conditions will be comparable. Round count for these matches will be 80 rounds.
$20 PER SHOOTER
Signup from 8:30 to 9:00. Safety briefing at 9:00 then we begin shooting.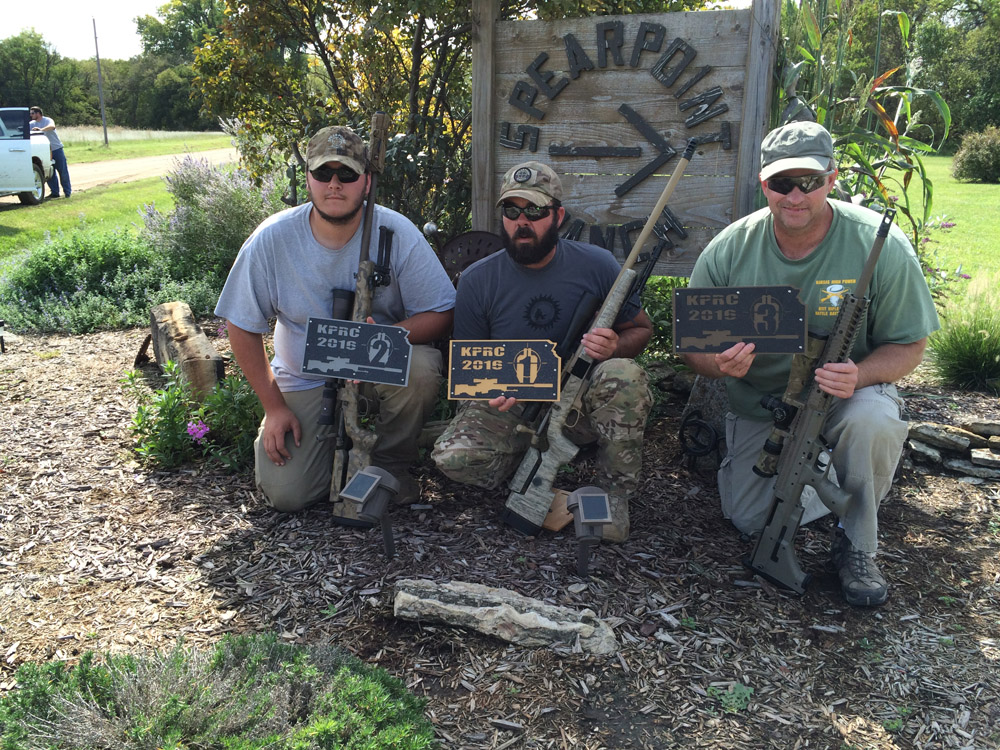 2016 KPRC Points Race Winners
THE MATCH
The majority of the rifle shots will be in the 500 to 800 yd range. We will be shooting a fair amount of steel so no steel core ammunition allowed. This will be for .300 mag or smaller.
THINGS TO BRING
Bring spotting scopes and LRFs if you have them. You may also want to bring a bipod or pack to rest a rifle on, ground pad, elbow and knee pads, ballistics charts or calculators, binoculars and of course eye and ear protection. Bring a towel or blanket to cover your weapon to protect it from the sun. You will also want to bring a lunch and something to drink and possibly a chair.
DON'T MISS THIS!
These matches are designed to be fun and to learn as much about long distance precision shooting as possible.
GPS COORDINATES
N 39 degrees 07.795′
W 098 degrees 06.299′
Limited Spots Available - Claim Your Dates Now!
Contact us today to schedule your Hunting Experience and Firearms Training